This site uses cookies. By using the site you accept our
cookie policy
.
Secondary Books

Mathematical Activities to Challenge and Excite
A collection of activities designed to engage learners by providing stimulating and motivating challenges, games and activities that excite curiosity. Appropriate for all ages, particularly those in upper primary or lower secondary.
---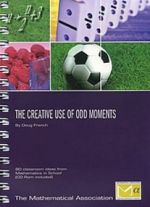 The Creative Use of Odd Moments
Odd moments are when half the class arrives late for some reason or when the main business of the lesson is completed before the bell or whenever you as teacher contrive to find a short period of time to discuss an interesting problem...