Primary Mathematics Challenge



Parents and pupils - try the PMC paper Live on line
or buy the PMC book!

Have you tried Primary Maths Problems live online?



NEWSFEED December 2013
77 000 pupils took the challenge!
This year there was an increase in the number of schools participating in PMC. There were 2100 schools which participated, with 77 000 pupils sitting the paper.
Last year you told us that the paper was a little easier than the previous year. Consequently we tried to increase the level of challenge, particularly in the last 5 questions. However, it seems that we may have overdone it and this year was much harder. Judging from our statistical record it was probably the toughest paper for about 5 years. As a result we will be inviting pupils who scored 21 and above to participate in the Bonus Round scheduled for Wednesday, 5th February 2014. It is astonishing to note that even with this level of difficulty 11 pupils, from 9 different schools achieved full marks. Congratulations to them!
We do try to keep the level approximately the same from year to year, but with a fresh set of problems written for every PMC it is inevitable that there will be some variation. It is clear from some of the comments in your feedback that some pupils were disappointed with their results. Some Y5 pupils who sat the PMC last year scored higher marks than they did this year in Y6. The last thing we want to do is to discourage pupils, so we will try even harder next year to set a paper which challenges the most able, but allows pupils a reasonable amount of success.
For some reason we received a large number of entries at the last minute this year which put a great deal of pressure on the staff at MA Headquarters to process the orders and ensure that nobody was disappointed. We would urge you to put a note in your diaries for September and try to get your orders in earlier. Don't forget that orders placed early qualify for the 'Early Bird' reduced price packs ... all the quality, but a reduced price tag!
As ever, the feedback about the administration of PMC was almost exclusively positive. There were a few packs which got lost in the post but, luckily for us, the planned strike was called off, so we had fewer problems than usual concerning deliveries. We do strongly advise schools to take advantage of the option to track the postage of the packs.
Many of you comment each year on the ease of administration of the PMC in school and the useful marking scheme, which we carefully space so that it can be folded and aligned with the question papers for easy marking. Some people asked for more time between setting the PMC and submitting the marks, but we need that fast turn-around in order to fit in with our internal schedules.
We are always conscious of the need to keep the phrasing of questions as simple as possible, but a number of you commented on the language used and the 'accessibility' of the questions on this paper.


Here are some of the pupils' comments from the Feedback Sheets
It was hard, but I tried my best
I really liked question 4.
This was harder than anything I have done in maths.. including the 11+ so it must be good
I think it was a good challenge. It really pushed me to my limits.
Tough but fun.
Challenging but fun. I could show off my skills.
You had to think carefully through the questions.
How could you do this to us?
Fun because the questions were different.
And some teachers' comments
The children loved it, as did staff, as a way of challenging themselves
The questions were great. However it gets more challenging each year. Maybe too challenging this year.
This was the hardest paper on record
A good range of questions; different areas of maths and contexts
Super as always. A real challenge, but fun.
Tough, but my top maths set enjoyed the challenge of 'thinking outside the box'
Pretty fair. Most children didn't read carefully, especially the 2-stage problems and so made careless mistakes.
Pupils love the quirky play on words used for names in the paper.
A good paper. Something for everyone, though we thought it more demanding than in recent years.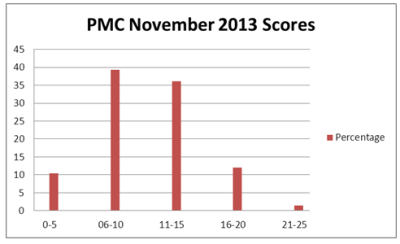 Breakdown of schools taking the PMC in November 2013
England 1941
Northern Ireland 47
Scotland 54
Wales 35
Eire 3
Outside UK 20


PMC Bonus Round
The pupils who scored 21 or more in the November 2013 PMC will be invited to take part in the bonus round. Invitations will be posted out on the 13th January 2014. The bonus round paper must be taken on Wednesday 5th February 2014. If you have a pupil who scored 21 or more and have not received your Bonus Round paper by Wednesday, 29th January, please contact the MA office.


The Bonus round is OMR marked. Please make sure the OMR sheet is completed in pencil and return it with the feedback sheet. Completed answer sheets should not be returned to the MA office.


Downloadable 2013 PMC Newsletter pdf here.


Contacting MA office
PMC policy is that any contact regarding PMC is made through the schools. We are happy to respond to queries from teachers regarding the Challenge. Increasingly we are receiving queries from parents about their children's performance in PMC. We refer these back to the schools and would ask that you make clear to parents that any queries should be channeled through the school.


On-line registration and results
This year, many schools were able to successfully register and return their results on-line.

What is the PMC?

The PMC is a test with multiple-choice problems which interest pupils and are mathematical. It is aimed at the top 60% of pupils in Years 5 and 6 England and Wales, P6 and P7 in Scotland, and Years 6 and 7 in Northern Ireland.

What do your pupils get?

the chance to take part in a national challenge
10 easy questions to start with
all pupils should achieve a reasonable score
certificates presented by the school
high-scoring pupils will be invited to take the PMC Bonus Round in February 2014

What do the teachers get?


Each pack of 10 PMC papers also contains:

1 gold, 2 silver and 3 bronze certificates
1 photocopiable Took the Challenge certificate
mark scheme
Also provided are full instructions, solutions and follow-up ideas for the classroom, feedback sheet, and an opportunity to raise the profile of maths in your school.
Cost per pack: £9.00 + VAT (schools can reclaim the VAT costs).
We strongly recommend that you take up the option of tracking your orders through the postal system to ensure you are not disappointed by parcels arriving late.

Overseas Orders


To ensure orders reach schools abroad on time, it has been decided that they must be sent airmail. Please select one of the rates to add to your order to cover the airmail postage. (You can order more than 11 packs; the airmail cost will be emailed to you.)
Quantity
of packs
EUROPE
REST OF THE WORLD
Air Mail
Surface Mail
Air Mail
Surface Mail
1
£2.32
£2.28
£3.89
£2.28
2
£3.09
£3.42
£5.29
£3.42
3
£4.19
£4.84
£7.51
£4.84
4
£5.29
£5.86
£9.73
£5.86
5
£6.39
£7.22
£11.95
£7.22
6
£6.94
£8.24
£13.06
£8.24
7
£8.04
£9.60
£15.28
£9.60
8
£9.14
£10.62
£17.50
£10.62
9
£9.69
£11.64
£18.61
£11.64
10
£10.24
£12.32
£19.72
£12.32
11
£10.79
£13.00
£20.83
£13.00
For International Signed for option add £4.95 to the postage cost.
12 Packs or more, please contact the PMC Office pmc@m-a.org.uk for prices.

Pupils love their PMC medals


You can order PMC medals for your pupils who got high marks in the November PMC. This attractive medallion, cast especially for the PMC is provided with a yellow MA ribbon, looks good when presented in assembly! The medallion has no date, so can be kept for future years; the back has space for engraving if wanted.
Cost:
order 1 - 5 medals ......................... £3.50 each
order 6 - 10 medals ....................... £3.25 each
order 11 and over medals ............ £3.00 each
Handling charge for all orders ..... £1.50
Please phone the MA office for further details or print out the order form.




Downloads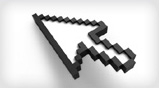 Team Members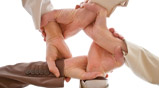 These are the people who work on the PMC. They are all volunteers who enjoy setting problems which are intended to motivate and 'stretch' young people!
PMC Book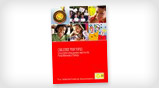 The book contains all the PMC problems from November 2002 to February 2006 arranged in four levels of difficulty.
FAQs